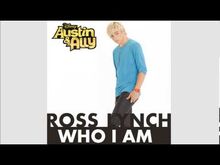 Who I Am is a pop song performed by Austin Moon (Ross Lynch), and written by Ally Dawson, and featured in Magazines & Made-Up Stuff. This song was played during the glow-in-the-dark themed party held at Sonic Boom to get to the magazine cover by impressing Megan Simms. In reality, the song was written by Shelly Peiken, Sam Hollander and Steve Shebby.
Oh-oh oh oh oh
Oh-oh oh oh oh
Oh-oh oh oh oh
Oh-oh oh oh oh

Maybe I shouldn't have lied
I was in over my head
All the games that I played
Just played me instead
Please forgive me, I'm trying to forget
I was too busy fronttin'
How dumb can I get?

Oh-oh oh so busted
Oh-oh oh I messed it up, up, up
Gonna tell you what, what, what


Gonna dance like a freak I'ma be tonight 
Sing along words into the mic
'Cause that's just who I am
That's just who I am


I won't care if they laugh at me
If I lose my grip on gravity
I'm doing the best I can
'Cause that's just who I
That's just who I am.
Video
Ad blocker interference detected!
Wikia is a free-to-use site that makes money from advertising. We have a modified experience for viewers using ad blockers

Wikia is not accessible if you've made further modifications. Remove the custom ad blocker rule(s) and the page will load as expected.