Ryland Lynch es el más joven hermano Lynch. Él no está en la banda
however he is a DJ and he's the manager of his siblings band. Most people do not know of him, however he has a large hand in R5's success as a band.
This is a link to his page on his family website: http://r5rocks.com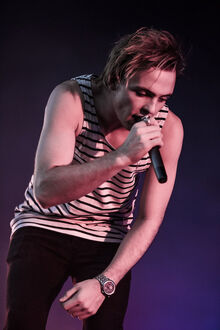 His full name is Ryland Michael Lynch
He is 20 years old
His birthday is on April 17 1997
He's the youngest in his family 
He plays football; his jersey number is #97
His favorite color is red
He shares a room with his brother Ross 
He is also known as DJ Lynch
He is not in R5, although he manages them.
He loves to help his siblings
He is the only kid in his family who isn't in R5
He has 3 brothers named Riker Rocky and Ross
Ryland has two sisters named Roxanne and Rydel
Ad blocker interference detected!
Wikia is a free-to-use site that makes money from advertising. We have a modified experience for viewers using ad blockers

Wikia is not accessible if you've made further modifications. Remove the custom ad blocker rule(s) and the page will load as expected.