No Ordinary Day is a song by Ross Lynch as Austin Moon. It's featured in the end of Ferris Wheels & Funky Breath, and the beginning of Girlfriends & Girl Friends. In Ferris Wheels & Funky Breath they are making a music video for this song. It makes a small appearance in Girlfriends & Girl Friends when it is revealed to be a number one video. It was written by Justin Trugman, Jaakko Manninen, Maria Christenson, and Shridhar Solanki.
Walked up to you
It was a gray December Monday
Asked for directions on the street
Do you remember?
It was cold and it was raining
But it felt like summertime to me

'Cause when you opened up your mouth
It was like sunshine coming out

You changed the world outside my window
Right there, you blew my heart away
And I remember when I met you
Thinking that you were not an ordinary girl
This wasn't gonna be no ordinary day

Yeah
Ordinary day
No, ohhh
No ordinary day
Yeah, yeah, yeah, yeah
No ordinary day
Oh yeah
No ordinary day





Video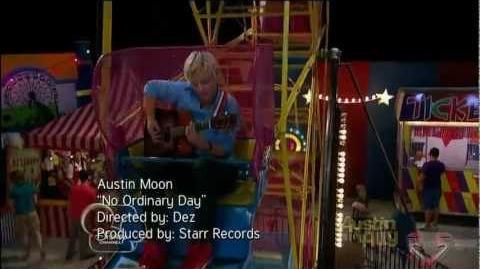 Ad blocker interference detected!
Wikia is a free-to-use site that makes money from advertising. We have a modified experience for viewers using ad blockers

Wikia is not accessible if you've made further modifications. Remove the custom ad blocker rule(s) and the page will load as expected.